EnnGreenServer Solution
EnnGreenServer

ENNGREENSERVER
EGS-2500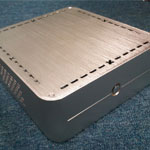 Deploying computing service can never be an easy task especially in an environment lack of consistent power supply from the national electrical grid. For remote or rural areas, the deployment of computing services has always to include power infrastructure investment as part of the deployment consideration, which sometime can cost more than the designated computing service itself.
EnnGreenServer is a mobile and portable computing system innovation to bridge the gap created by the lack of consistent power provision. Modular solar power system has been designed and integrated that meets the requirements of green computing deployment. The design of EnnGreenServer is mainly for applications in the rural or remote areas where national electrical grid is not available. Riding on the optimized solar technology, the optimum use of energy of the green computing architecture enables a compact and smaller design of the overall system.
With EnnGreenServer, computing related services can now be deployed without considering the availability of power infrastructure nearby and more flexibility in the location of service deployment can be achieved. Even in the furthest long house in the deepest jungle ever.
Features
Highly portable computing service solution
Extremely low power consumption and solar powered
Wall mountable
Robust chassis for harsh environment
Support dual mode power input: AC mode and Solar mode
Support major operating systems
Integrate with backup power in the event of total blackout
Specifications
| | | | |
| --- | --- | --- | --- |
| | Model | : | EGS - 2500 |
| | Dimension | : | 200mm(W) x 70mm(H) x 225mm(D) |
| | Processor | : | 1.8 GHz Processor |
| | RAM | : | 4 GB System Memory |
| | Storage | : | 120 GB |
| | Connectivity | : | Gigabit Ethernet port and 4 USB port |
| | Power Consumption Requirement | : | 18 W |
| | Mounting | : | Wall mountable brackets |
| | Power Input | : | Interface for both AC and DC solar input switching |
| | Backup Power | : | Backup power up to 5 hours in total blackout |