EnnStreet Solution
Solar Public Lighting System

ENNSTREET
ES-1204NP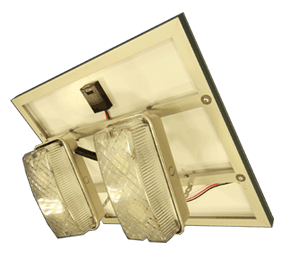 EnnStreet Solution is specifically designed and developed to light the Difficult-to-Wire public areas such as walkways, gardens etc via the advancement of Ennmos solar lighting technology. For places with plenty of sunlight, solar energy should be utilized as much as possible for cultivating a greener living environment.
The excessive sunlight can be conserved to provide lighting in the night where it is most needed for security and conveniences either in public places or residential compounds.
The standalone solar lighting system not only reduces the overall installation cost especially cabling as well as isolation of power failure from the grid. More importantly, the monthly electricity bills for the lighting can be eliminated completely, leaving no continuous financial obligation to the users.
EnnStreet Solution uses the latest LED technology to extend and maximize the operation lifespan of the bulbs with very low maintenance. The design with multiple bulbs will ensure failure of any of the bulbs will not fail the entire system which is currently experienced by the conventional public lighting systems. The fully integrated Ennstreet solution will provide years of trouble free operation.
Features
Compact Design and Standalone Operation Excellent for Difficult-to-Wire Public Areas.
The Multiple Bulb Architecture Eliminates Blackout caused by Single Bulb Failure.
Environmental Friendly and Low Overall Operation Cost.
Better Electric Shock Protection with Low Line Voltage.
Fully Automated ON/OFF Switching Based On Ambient Light Intensity.
Long Bulb Life Span via The Latest Solid-state LED Technology.
Benefits
No line voltage, trenching, or metering.
No power outages.
Battery backup for cloudy or rainy days.
Distributed light and power - no single point of failure for enhanced reliability.
Easy to install with quick connect plugs.
Minimum scheduled maintenance.
No cost of transformers or meters to be added for electric service.
No monthly electric bills.
Controlled charging to prolong battery service life.
Long life solar panel modules with up to 20 years of power generation capacity.
Environmentally friendly - 100% powered by the sun, solar panels reduce fossil fuel consumption, eliminating pollution.
Self-contained solution - Light on/off controlled by automatic daylight sensing, no running or maintenance cost.
Specifications
| | | | |
| --- | --- | --- | --- |
| | Model | : | ES - 1204NP |
| | Solar Panel Size | : | 490 mm x 30 mm x 550 mm |
| | Light Type | : | High efficiency LED bulbs |
| | Battery | : | Included, 2 units |
| | Battery Type | : | Gel based SLA for solar system |
| | Controller Box Size | : | 250 mm x 150 mm x 300 mm |
| | Controller Features | : | Automatic operation from dusk to dawn, over charging and low voltage protection, battery capacity, solar charging and fault indicators, auto cut off for charging |
| | Pole | : | Optional |
| | Accessories | : | Nuts, bolts, screws, cables, flexiconduit and L-structure |
| | Operational Hours | : | Maximum 12 hours per day, can be used for 2 nights under rainy or cloudy days * |
| | Warranty | : | 1 year manufacturing defects (battery comes with 3 months warranty only) |

*

* Under Optimum Sunlight Condition